Krystyn Rawlinson

Compliance Coordinator

in Cypress, TX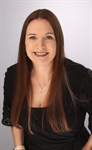 Krystyn Rawlinson is an experienced professional who brings more than 20 years of real estate experience to her role as the office manager. She has been with the office since 2012 and takes pride in providing the best assistance to our agents possible.
As NextHome Realty Center's office manager, she is responsible for overseeing the day to day operations and serves as our compliance coordinator, reviewing all contracts and addenda. She is here to help our awesome agents with anything they may need!
In her free time, the Texas native stays pretty busy spending time with her husband and their five children. She has 4 girls and 1 boy ranging from toddler to teenager. Krystyn is involved in several Christian ministries and she and her family love to volunteer their time with their church.
Have questions about NextHome Realty Center? Please reach out to Krystyn (281) 213-6211